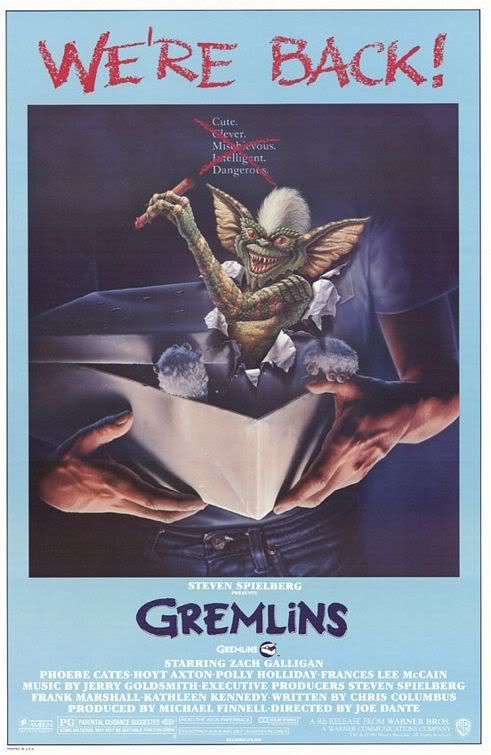 This is the Junkyard's biggest post yet! It took a couple of nights getting this together for your enjoyment.
GREMLINS
First up we have the first Gremlins movie. Classic stuff. I don't even have to go into how this is a childhood classic for all of us who were kids in the 80's. The great score by the great Jerry Goldsmith didn't get a full score release. It got a measly four tracks on the official album (around 16 minutes worth of score). However this was better than nothing and of course it included the great Gremlin rag.
So here for your enjoyment is the official album release for Gremlins.
TRACK LISTING:
01. Michael Sembello - Gremlins Mega Madness

02. Quarterflash - Make It Shine

03. Peter Gabriel - Out Out

04. Jerry Goldsmith - Gift

05. Jerry Goldsmith - Gizmo

06. Jerry Goldsmith - Mrs Deagle

07. Jerry Goldsmith - Gremlin Rag
DOWNLOAD
Now here is the 21 Track Bootleg Score. This is the first Gremlins Bootleg Score to be released. The sound quality is pretty good. No intrusive sound effects or anything. The only real flaw is that there is a mild hiss noise throughout the score. It's not terribly noticeable but it's obviously a bootleg and not a mastered album. But quite frankly I prefer this bootleg to anything else. The last 3 tracks are from Twilight Zone: The Movie. The only reason I'm keeping those with it is because it was a part of this bootleg for a long time and in order to escape confusion they are kept in there.
As a BONUS I added a 22nd track to the 21 Track Bootleg. It is the Gremlins Suite that Jerry Goldsmith performed on the album "Goldsmith Conducts Goldsmith".
TRACK LISTING:

01. Fanfare and Prologue (04:35)

02. Late For Work (01:46)

03. Mrs. Deagle (02:17)

04. The Gift (02:15)

05. Pop Goes The Gremlin (03:00)

06. Billy And Katey (02:53)

07. Gremlins On The Loose (01:24)

08. Mom Vs. The Gremlins (04:01)

09. Stripe Blows His Nose (01:12)

10. A Gremlin Goes Postal (00:46)

11. Deagledeagledeagle (02:21)

12. The Gremlins Attack (02:05)

13. Billy To The Rescue - A Christmas Story (03:27)

14. Movie Theatre - Explosion (02:38)

15. Hunting Stripe (03:33)

16. Gizmo Saves The Day (05:41)

17. Bye, Billy (02:57)

18. The Gremlin Rag (04:08)

19. Twilight Zone Theme (00:42)

20. It's A Good Life (10:33)
21. Overture and End Titles (06:02)

22. Gremlins Suite- From Goldsmith Conducts Goldsmith
Now, I have come across various "Complete" Gremlins soundtrack that vary from 40 to 46 tracks. I was going to post the 46 track version I found but I can't verify it at all in searches. And to be honest these "Complete" versions suck "complete" ass in sound quality. Especially when compared to the FAR superior 21 track version in 320 kbps . If I come across one of the complete soundtracks with decent quality I'll post it here but otherwise stick to the two soundtracks above.
DOWNLOAD
On to the sequel folks...
GREMLINS 2: THE NEW BATCH
This score I find to be a slightly more enjoyable listen overall. I love the original for it's old school Goldsmith style but this one is just as cinematic as scores get and of course the quality of sound here is much better to as this was an official score release. Not nearly complete mind you... but a pretty solid soundtrack that I grew up with. If any of you know of an Expanded bootleg, let me know. I included a bonus track to this one. It's the music that plays when the Brain Gremlin makes a Bat Gremlin. It was from Goldsmith's score for The Burbs.
Enjoy.
TRACK LISTING:
01. Just You Wait
02. Gizmo Escapes
03. Leaky Faucet
04. Cute...
05. Pot Luck
06. The Visitors
07. Teenage Mutant Gremlins
08. Keep It Quiet
09. No Rats
10. Gremlin Pudding
11. New Trends
12. Gremlin Credits
13. Bonus Track- Bat Gremlin (My Skull / The Gurney From The 'Burbs)
DOWNLOAD
Next up is the song album. I found this on a blog somewhere a long time ago.
TRACK LISTING:
1. The Merry Go Round Broke Down-
2. I'm Ready- Fats Domino
3. Situation- Jeff Beck Group
4. Damn Yankees
5. Bombers in the Sky- Thompson Twins
6. Tuff Boy- Jasmine Guy
7.Touch Me- Private Life
8. If You Could Read My Mind- Gotrdon Lightfoot
9. Raindrops Keep Falling On My Head
10. Sling Shot- Jeff Beck
11. Surprise! You're Dead!- Faith No More
12. Angel Of Death- Slayer
13. Theme From NY, NY
14. Tocatta and Fugue in D Minor- Bach
15. Rhapsody in Blue- George Gershwin
16. The Merry Go Round Broker Down (That's All Folks)
17. The Big Sign-Off
DOWNLOAD
GREMLINS 2 THE NEW BATCH VIDEO GAME
This last download is for two albums... in it you'll find the old soundtrack for the NES Game as well as the remix album
G2EP...
I'm not one to listen to old school video game scores, but what I've heard of G2EP is pretty cool.
Gremlins 2 The Game
TRACK LISTING:
1. Title Screen
2. Cutscene Display
3. The Office
4. Ventilation Shafts
5. T.V. Set
6. Under Pressure
7. Mr. Wing's Shop
8. Gremlin Battle
9. The Big Battle
10. Game Over
11. Stage Clear
12. Ending
G2EP
TRACK LISTING:
1. Billy's Office
2. Air Ducts_Cutscene
3. Mr. Wing's Shop
4. Clamp Enterprises
5. Game Over_Genetic Lab_Level
6. Boss
7. Control Center
8. Ending_Title Screen
DOWNLOAD
That's it folks!